Nightbirde's Cancer Journey (From Diagnosis To America's Got Talent)
Jane "Nightbirde" Marczewski told America's Got Talent she had gone through cancer multiple times. See her journey from her diagnosis to now.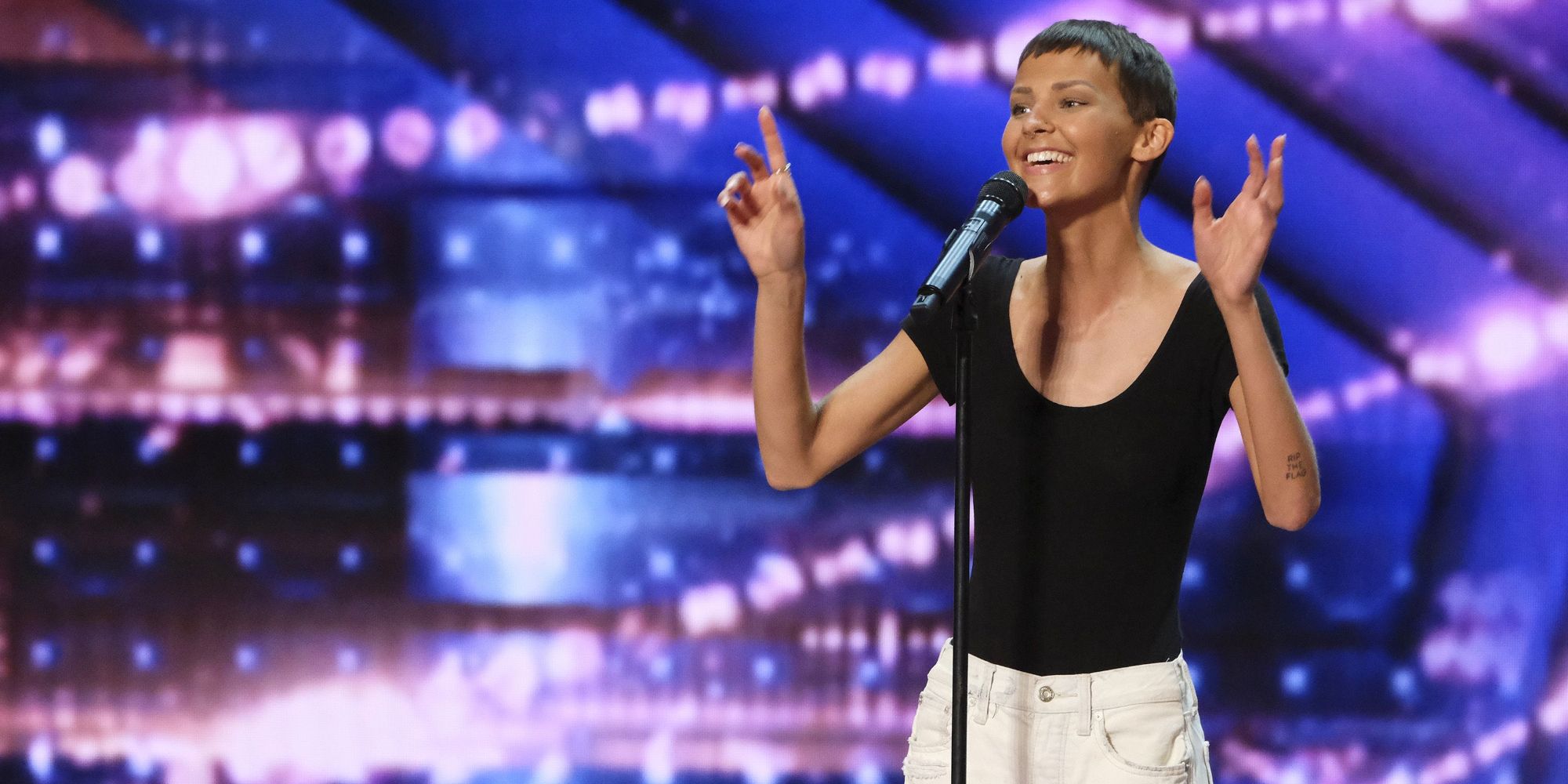 Jane Marcezwski has been battling cancer since 2017. She entered the America's Got Talent stage under the name "Nightbirde" and blew the judges away with her original song, "It's OK." Her audition currently has over 22 million views on YouTube, and she has become an inspirational face with her moving lyrics and positive energy.
Having brought the entire crowd and judging panel to their feet, Nightbirde was gifted with the Golden Buzzer from Simon Cowell, who told her everything about her performance was special. "There was something about the song the way you almost casually told us what you're going through," he told her. Howie mentioned how authenticity is when you feel it and it moves you and said her act was the most authentic thing he'd heard this season. The judges agreed her song was more than "OK." But while she herself might not be okay in every way, she said she is more than the bad things that happen to her.
Jane first told her Instagram followers that she was diagnosed with cancer in September 2017. At the time, she had breast cancer, at least stage 2. But radiating the same positivity she brought to America's Got Talent in her viral audition, she said, "...I 100% will live through it. God and I have dreams for my life, and I WILL live them out," followed by the hashtag #seejanewin.
On Thanksgiving 2017, Nightbirde showed up to a family dinner in Nashville, Tennessee after chemotherapy. Her family all wore hats and, once they took them off, they revealed their bald heads, which they had shaved for her. For the first time, Nightbirde shared her bare head online, alongside her newly bald family members. In February of the following year, she told her Instagram followers to get their hopes up, as she would be going through her final stage of chemo.
On March 27, 2018, Nightbirde once again told Instagram she knew she would beat cancer (similar to America's Got Talent judge Sofia Vergara). Two days later, she announced the doctors found no cancer in her breast and lymph nodes, meaning the chemotherapy worked. They removed a total of three lymph nodes and, because of her age, size of the tumor, and risk of cancer returning, both of her breasts. After this, she required six weeks of radiation and 11 infusions blocking the hormones feeding the tumors. The doctors moved her chest muscles away from her rib cage and inserted a tissue expander underneath. She had drains coming from her armpits to get rid of the blood and fluid rushing to her chest cavity. Once they drained, her mom would help her empty and measure them. During this time, she was in severe pain, noting that it even hurt to move her arms. She needed help with simple tasks like sitting up and getting dressed.
In April 2018, the Zanesville, Ohio native, unfortunately, disclosed that her cancer had come back. She described the cancer as being "aggressive" and said she was getting surgery to remove it. "So in the spirit of faith and trust in this God who is our KIND FRIEND who we know well," she said on Instagram, "Let's join together as a family and an army to send cancer to hell with all the fear and lies that come with it. Send all your prayers and love and get ready for some GOOD NEWS soon." Along with #seejanewin, she added her commonly used cancer-related tags: #cancersucks, #weaintscared, and #futurecancersurvivor. Though she hadn't beat cancer yet, Jane participated in the #nationalcancersurvivorsday trend, calling herself a survivor anyway. In July 2018, she was pronounced cancer-free yet again.
On New Year's Eve 2019, the singer discovered there were a large number of tumors in her liver and nodes, and some in her lungs and spine, though she was unsure if they were cancerous. "PRAY for these tumors to dissolve; Jesus heals today, expect it," she said. Her doctor was 95% sure the tumors were cancer and, if untreated, Jane would've had 4-6 months to live. Treatmeants would extend her life by three years. "Watch me live," she told Instagram. Six months later, she spoke out on her cancer, saying that she should've died on May 31. She said it was the hardest battle she had ever fought. "I had to dig deep for the will to live and [I} had to want it more than anything I've ever wanted," she posted. "Whatever your battle is, you can do it too. That's why I'm here. I'm here to tell you there is a way through. There is. I promise."
In February 2020, Jane relocated to Los Angeles for treatment at an integrative medicine center, thanks to the money donated from her followers and friends. She was expected to be there for several months, as the doctors insisted they had "a lot of work to do." "All my love to you," she said. "This time around with cancer, it's the toughest battle I've ever fought. Bright days are ahead for me—thank you for investing in them."
In July 2020, the survivor announced she was cancer free for good. She still needed a year of upkeep and prevention and received donations on her GoFundMe page. "I hope you feel the gravity of the fact that your money has saved my life," she said. She later even showed her followers her excited reactions to reading that her cancer was gone.
While many contestants come to the show ready to introduce themselves and perform, Nightbirde is one of the many acts who had a serious story to tell. When the 30-year-old told the judges she had been dealing with cancer, she said that, like her song, "It's okay." With her success on America's Got Talent, viewers can expect to see Nightbirde again during the semifinals. She has already moved viewers who have taken to YouTube with comments like, "Originality, power, spirit, beauty and positivity—she has it all. Rooting for her and hope she gets better and stays strong so she can win this!" and "She helped me more in 3 minutes, than my therapist in 3 years." Jane has called the entire experience too good to be true and declared Simon Cowell her new BFF. While she might have a small chance of living, Jane has shown that she has strong hope that she'll get through it, and it'll all be okay.
Next: When America's Got Talent Is On & How To Watch The Show